Chinnar Wildlife Sanctuary near Marayoor in Idukki is really a paradise for both bird and butterfly watchers. The sanctuary has a different type of ecosystem compared to other forests in Kerala. It consists of grasslands, rocks, dry deciduous and thorns. Since this sanctuary is on the eastern side of the Sahyadri mountains, it receives low annual rainfall. This is the reason behind the different ecosystem.
I had been to Chinnar many times. And I think the place is noteworthy for its diverse butterfly population. Below you can read about the different trekking options at Chinnar. Also, see the photos.

Trekking and other activities
There are two eco-tourism centers at Chinnar Wildlife Sanctuary. One is at Alampetty – on the western side, near Keezhanthoor. The other is at Chinnar near Kerala – Tamil Nadu border. Both these are by the side of Munnar – Udumalpet road. So it is easy to reach there.
Alampetty is the first point when coming from Munnar. The forest department runs an eco shop at Alampetty with the help of tribals.
The programs offered from Alampetty include:
Trekking to Thoovanam Falls

Cultural Trekking

Stay at Thoovanam Log House.
Trekking to Thoovanam waterfalls is about 4 kilometers long. It involves steeper paths and crossing of two small streams. The path passes through dense vegetation with undergrowths. This area is a habitat of the Grizzled Giant Squirrel.
The trek includes visiting the Madathala Rock Shelter. We can see very ancient rock paintings here. Dolmens are also seen at many points. These types of rock paintings and dolmens are found all over Chinnar and surrounding areas like Marayoor. It is 3km long soft trekking. More like a nature walk.
Riverside trekking from Chinnar is another one I liked. We could spot some elusive birds like the Spot-bellied Eagle Owl. From my experience, this area has more birds.
Apart from these, are also other options to stay. Visit the website of Munnar Wildlife for booking.
Butterfly Watching & Photography in Chinnar
When I first visited Alampetty in January 2016, I had only read about the butterfly diversity. But I understood it when we started walking in the jungle (cultural trekking). I had to change the telephoto lens with the macro lens.
In addition to butterflies, we could also see wild boars. Also saw the footprints of Sloth Bear and heard an alarm call of Deers. So the place is rich in all types of wildlife.
Best season for butterfly watching in Chinnar – late July to September.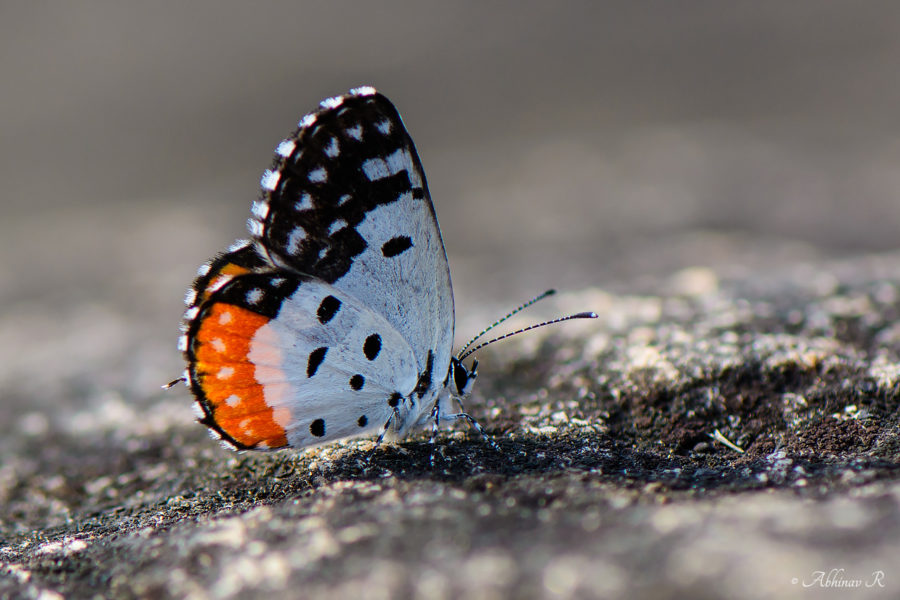 More Photos
Here are some more pictures from Chinnar.
How to reach Chinnar Wildlife Sanctuary
Alampetty is 45 kilometers from Munnar, and 37 kilometers from Udumalpet. Munnar – Udumalpet road or SH 17 passes right through the middle of the sanctuary. So accessibility is very good. But the road was filled with crater-like potholes.
Update: The roads were being repaired when I last visited in October 2016.
Nearby places to visit
Lakkam Waterfalls –  It is another beautiful waterfall en route Chinnar from Munnar (24 kilometers from Munnar).
Eravikulam National Park –  7 kilometers from Munnar. A top place to see the endemic Nilgiri Tahr. Trekking and staying facilities are available here also. Anamudi peak – the highest peak in the Sahyadris – is located inside the park.
Marayoor – Marayoor is known for ancient dolmens & paintings. Marayoor jaggery is also famous. There are several huts with thatched roof to prepare jaggery from cane. One can watch the process of preparation and buy some at low-cost.
These are some easy spots between Munnar and Chinnar. So don't miss them.