If you ever plan to do birding in south India, Thattekad should be on the top of your list because it is such a unique place with a surprising number of species diversity within a small area. No wonder it is a real haven for birders from all over the world.
The one important thing I like about this place is that it is not yet a bustling tourist spot like Kumarakom or Munnar. Most of the visitors to this place are avid birders. So they care about nature and its precious diversity.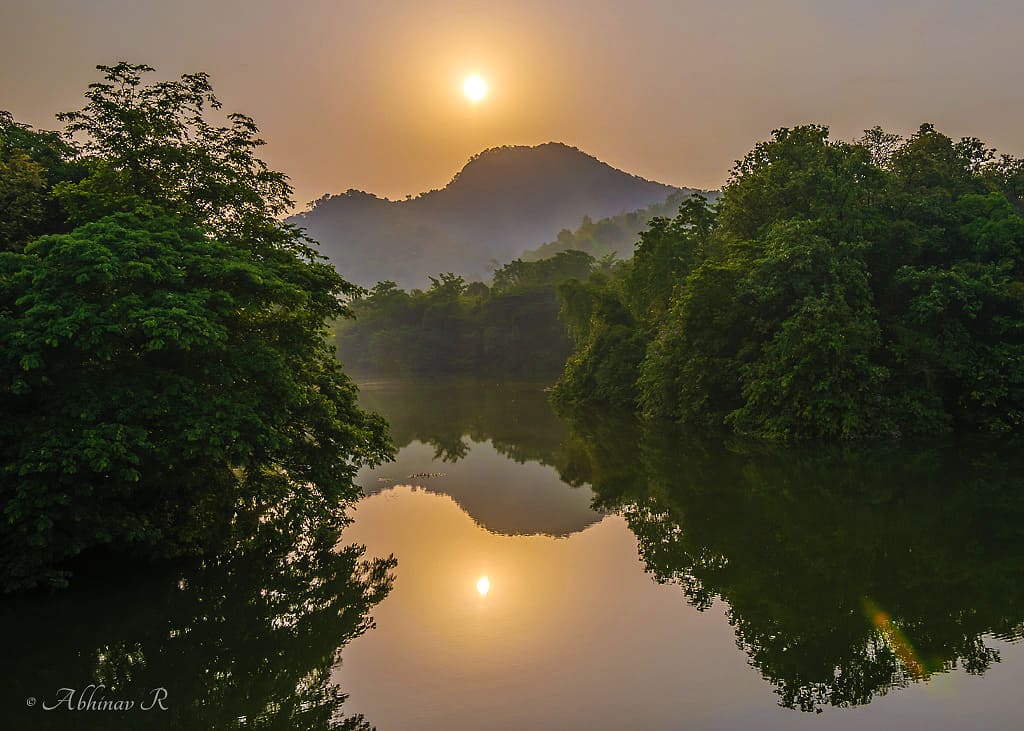 Salim Ali Bird Sanctuary, named after India's legendary ornithologist, lies right at the heart of Thattekad. Although the sanctuary is only 25 square kilometers, the forest it lies in is a part of the vast Western Ghats.
How to reach?
Being well connected by road, the place is easily accessible.
Nearest Airport – Cochin International Airport, Nedumbassery
Distance from Airport – 43 km
Route – Nedumbassery > Perumbavoor > Kothamangalam > Thattekad
Distance from Kothamangalam – 12 km
Since it is just a 2-hour drive from Kottayam, I am a frequent visitor here. If you are driving, from Kothamangalam, you can feel the difference, the richness, in the atmosphere once you drive past Keerampara. You start to get a vibe of Thattekad. Once you cross the bridge across the river Periyar, you are right in front of the Sanctuary gate, situated opposite to Siva Temple on the left side.
4 Highlight Bird Species You Must Watch
Thattekad is home to 250+ species of birds, but there are quite a few among them you should not miss. You might have a different target list, however, these are my picks.
# Malabar Trogon
An elusive and probably the most attractive bird you don't want to miss.
# Ceylon Frogmouth
The most number of sightings of Ceylon Frogmouth is from Thattekad. Being a nocturnal species and due to its highly effective camouflage, you may not even notice this bird although it is perching at a hand's stretch.
# Black Baza
A beautiful migratory raptor which visits south India during winter. Some birders even spend multiple days solely to get a sighting of the Baza.
# Crimson-backed Sunbird
Crimson-backed Sunbird is a common bird here. It is significant because it is the smallest sunbird in India and also endemic to the Western Ghats.
Due to the variety in habitat types, forest birds and waterbirds are seen here along with the common species. However, high altitude species are rare.
How to do birding in Thattekad?
The bird life of Thattekad is not limited to the boundaries of the sanctuary. The whole area and its surroundings are an abode of birds.
For good reasons, most of the forests around Thattekad are protected areas under the Forest Department.
Guided Birding
If you are a serious bird watcher or photographer, then arranging a native guide to accompany you is the best way to make the most out of your trip. There are quite a number them who know the place inside out. Most of them and their families live on the premises of the sanctuary.
Many run homestays too which comes helpful if you need to stay there. Most of them are well-experienced guides who regularly conduct birding tours all across South India and not just Thattekad alone. Mr. Vinod is one such person I know here. He had arranged and guided a few birding trips for me across Kerala.
Self-guided Birding
If you are a day-visitor who wants to do some casual birdwatching, you can do it by yourself also. Buy a ticket from the sanctuary's counter and go for a walk. The trail named as "Salim Ali Birding Trail" starts a few meters from the entry. There are maps and signboards throughout the way to guide you. But if you are new to the place take care not to get lost in the way.
In fact, most of my initial trips were like this. If you like to take a stroll and do some birding along the way, this is a good option. I got my first sighting of the Malabar Trogon during one of those walks. It is a great feeling when you spot a new bird on your own.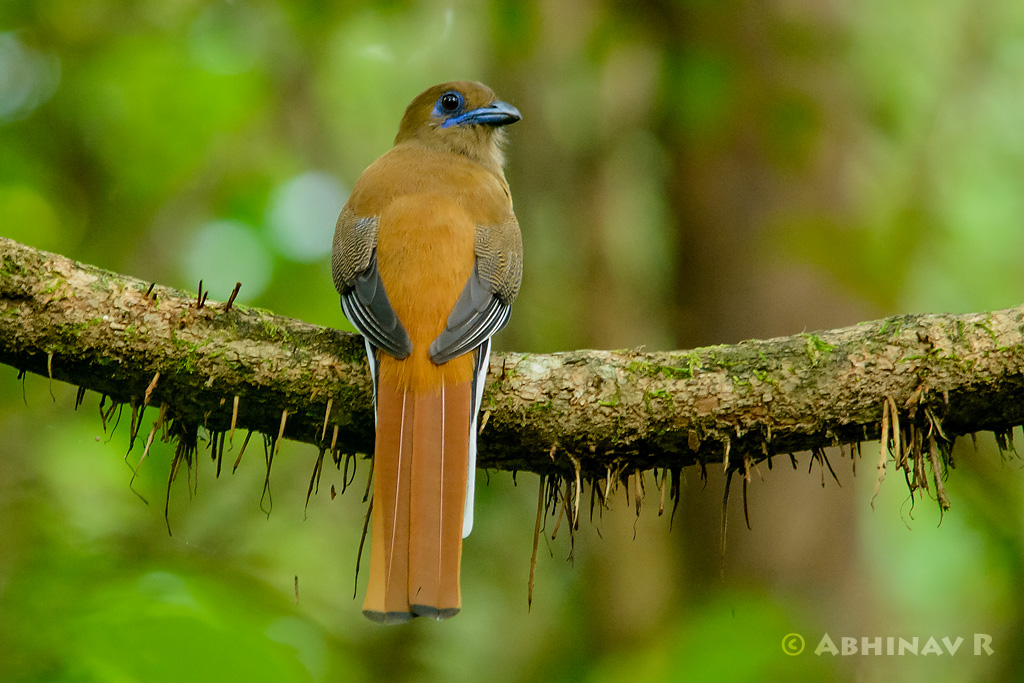 During the migratory season, there is a trail called 'Baza Trail', conducted by the sanctuary. This is just the regular birding with the main target being the Black Baza (see my photo above). However, whether you can find it or not depends on your luck.
Scopes for bird photography
Birdwatching and photographing are different pursuits although one can do both. Thattekad hardly disappoints you if you are a watcher. For photography, things can be a little bit challenging. Thick vegetation and mist are the reasons, especially during and immediately after the monsoon.
However, I think photos from these habitats have a natural touch to it. I prefer to photograph birds in their natural habitat rather than creating a studio. So it depends on the type of photos you want to make. Getting shots with perfect bokeh can be difficult, although not impossible.
Where to Stay
Apart from the homestays and resorts, the forest department also runs a watchtower and an inspection bungalow where visitors can stay.
The watchtower is situated 2km inside the sanctuary on the banks of Periyar. You can reach there either by walking or by a row-boat. One or two officers will accompany to make the necessary arrangements including dinner and breakfast. You can get a booking by phone or directly from the sanctuary office.
If you can get a boat journey (it depends on the water-level & weather), you might be able to spot a few waterbirds also. I had stayed there for a day back in 2016. The watchtower is a small 3-storeyed building with enough space for two people. It runs on solar power and has basic facilities. A morning nature walk is also a part of the stay.
Best Season for Birding
The winter months are the best season for birding in Thattekad. The season starts mid-October and lasts till February. During this season Thattekad makes home to several migratory birds from different parts of the globe including the Himalayas and even Europe.
The Black Baza, Brown Breasted Flycatcher, Eurasian Golden Oriole, and Verditer Flycatcher are some important ones.
October to February – Winter birding season
March to May – Summer, Off-season
June to September – Monsoon season
Even during the off-season, you can expect to see many resident birds, even the Malabar Trogon.
Climate and Weather Conditions
The climate is warm tropical with temperatures rising to the range of 33 to 38 degree Celsius during Summer.
The weather is usually pleasant during winter. As the thickness of vegetation decreases, photography becomes easier. Also, the presence of fruit-bearing trees attracts a lot of birds during this season.
About the Sanctuary – Some Facts
The Sanctuary, established in 1983, lies on the banks of Periyar river with Bhoothathankettu dam downhill and Idamalayar dam uphill. The rivers form a V-shaped junction here. Since this is the catchment area of Bhooththankettu dam, low lying regions of the sanctuary get submerged when the water level in the dam rises.
To the north of the sanctuary lies Idamalayar reserve forest and to the east the mighty Western Ghats. The vegetation comprises of moist deciduous and tropical semi-evergreen trees. The altitude ranges from 40m to as high as 500m. The highest peak is Njayappillimudi (500m) with Thoppimudi (480m) standing close to it.
This unique geographic diversity contributes to the abundant and dense bird life in the area.
Apart from birds, a large variety of butterflies, moths, and Odonata are seen here. There is also a small butterfly park and medicinal plant garden inside the sanctuary.
More Photos from Thattekad
Summary
So Thattekad has the potential to allure any birder with its richness. That is why Dr. Salim Ali once compared this place to northeast India for its diversity.
Have you been to Thattekad? What was your experience? Did I miss some key things? Feel free to discuss in the comments section.